Chili Cheese Crostini with a Coriander & Cashew Chutney
INGREDIENTS
Cheese Toasts
1 1/2 cup CheeseLove mozzarella cheese, grated
1/2 French baguette
1 tablespoon butter, room temperature 
1/2 cup green capsicum, finely cubed
1 teaspoon garlic, minced
1 teaspoon green chilli, finely chopped
1/2 teaspoons chilli flakes
1/2 teaspoon black pepper powder
1 teaspoon oregano
2 tablespoons milk
Salt to taste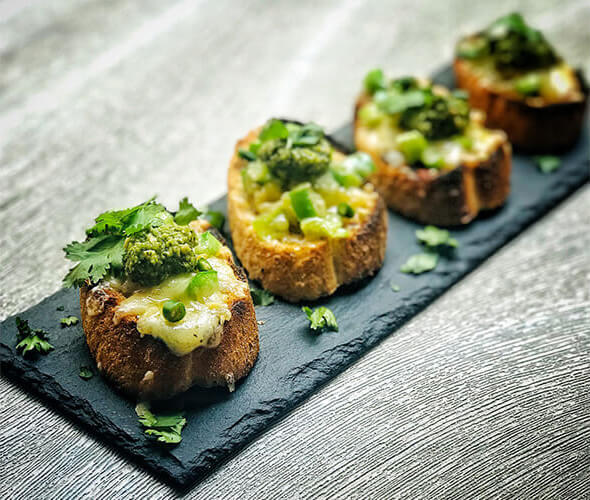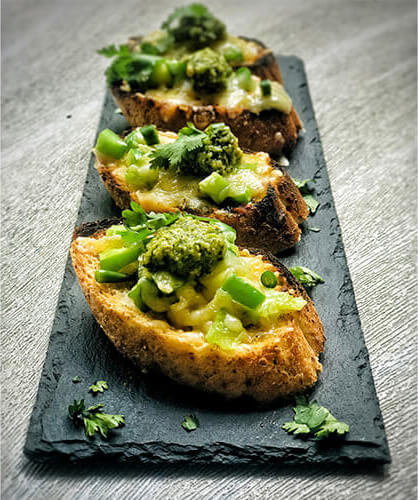 Coriander Chutney
1 cup coriander leaves & stems
1/4 cup onion
2 tablespoons olive oil
 green chilli
1 tablespoon lemon juice
1/2 teaspoon sugar
1/2 teaspoon salt
6 cashew nuts
INSTRUCTIONS
Slice baguette & toast both sides lightly.  Prepare a garlic butter spread by mixing chilli flakes, oregano, minced garlic, black pepper & a pinch of salt with the room temperature butter. 
Combine the mozzarella, green capsicum, green chilli, milk, a few pinches of salt and combine well. Add onto the side with the butter spread and allow cheese to melt in the oven at 180 degrees Celcius for 5 minutes or until completely melted.  
For the coriander chutney, combine all ingredients in a food processor until smooth, chutney can be stored for up to 3 days in the fridge.
To serve spoon a small amount on top of warm cheese toasts, garnish with chopped coriander & serve.