Ham and Cheese Breakfast Sliders
by Reina Cooks
INGREDIENTS
1 packet (12 slices) Cheeselove Cheddar Cheese 
8 eggs
salt and garlic pepper or regular black pepper to taste
1 package 12 sweet breakfast rolls
1/2 Kg thinly sliced ham
1/4 cup salted butter melted
1 tablespoon mixed herbs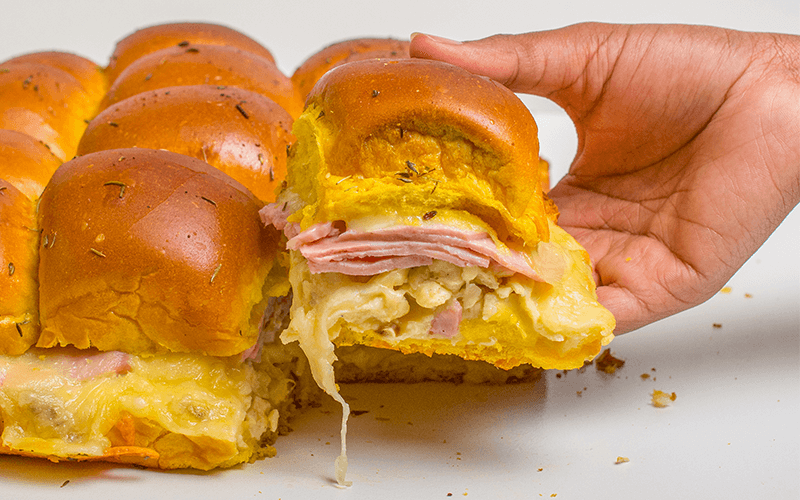 INSTRUCTIONS
Preheat oven to 180°C. Scramble eggs over medium heat, adding salt, garlic and pepper to taste. Once scrambled, set aside. Spray a small sheet pan with nonstick spray or line with foil. Without separating the rolls, cut the entire group in half, lengthwise. Place the bottom half on the sheet pan. Top with 6 slices of cheese, covering the bottom section of rolls. Then top with the scrambled eggs, then ham then the last 6 slices of Cheeselove chedar cheese. Cover with the top layer of rolls.
Mix together the melted butter, and mixed herbs. Pour over the tops of the rolls and brush to make sure the rolls are fully covered with the mixture.
Bake for 10-15 minutes or until cheese is fully melted and the tops of the rolls are golden brown.
Best served hot with your favourite sauces
Recipe Notes
You can also add sautéed spinach, crispy bacon and of course some more cheese!