LOADED KACHUMBARI FRIES
INGREDIENTS
4 slices CheeseLove Burger Cheese (Cheddar)
1 kg Potatoes cut into chips
Vegetable oil to fry
400 grams lean mince meat
2 tomatoes
3 cloves garlic
1 onion
3 tablespoons tomato paste
1 teaspoon turmeric
1 teaspoon cumin
1 teaspoon curry powder
Salt and pepper
1 teaspoon sugar
Kachumbari Prep
4 slices CheeseLove Burger Cheese (Cheddar)
1 kg Potatoes cut into chips
Vegetable oil to fry
400 grams lean mince meat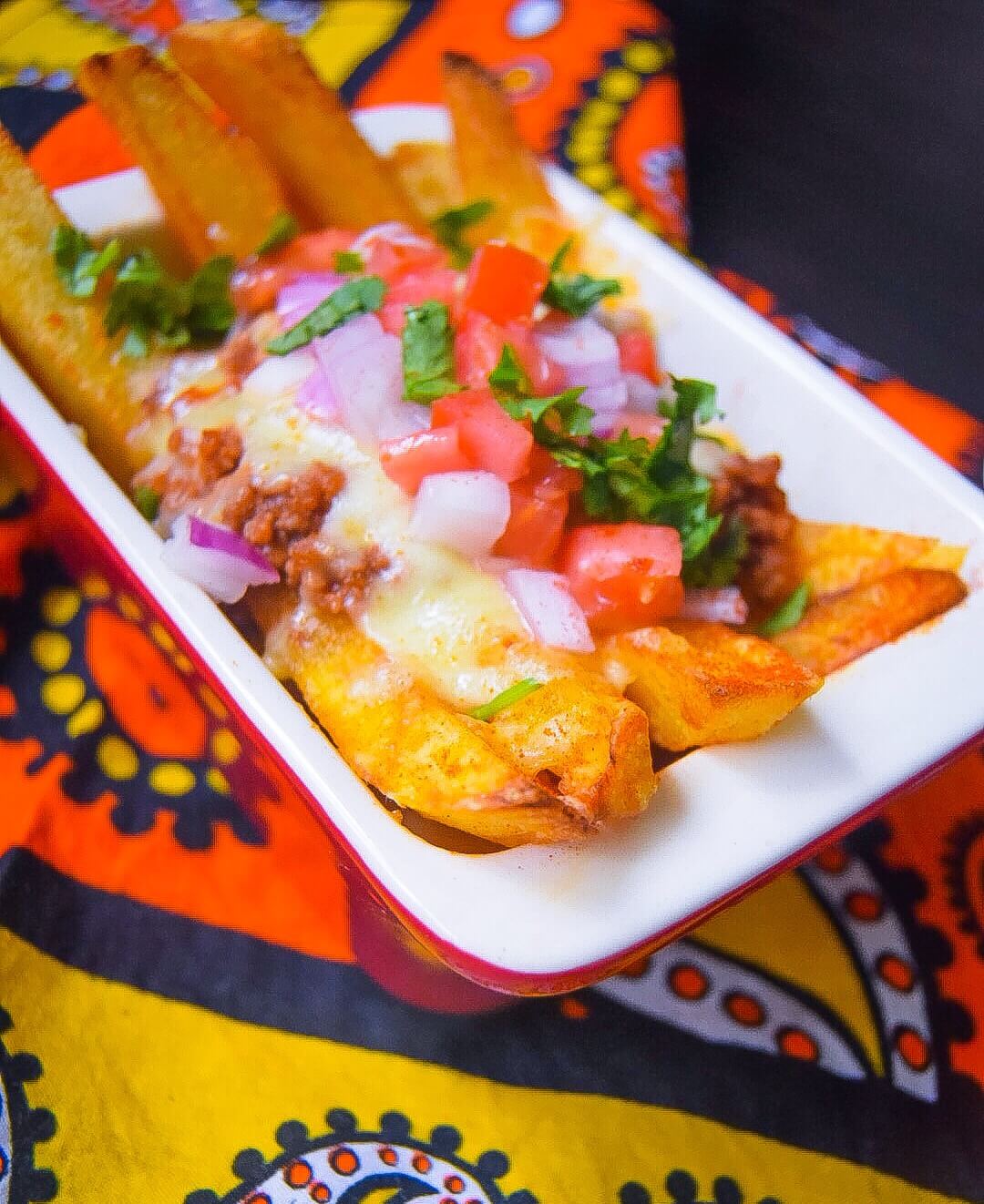 INSTRUCTIONS
Heat vegetable oil in pan and cook chopped onions. Blend tomatoes with garlic and add to pan. Add all spices and tomato paste. Cook 5-7 minutes. Add mince meat cook for 10-15 minutes. Add a bit of water so that the meat isn't dry. Season with salt and pepper. Add sugar to balance the acidity of the tomatoes. Once the meat is cooked and the sauce is thick, remove from heat.
To make your kachumbari, finely chop the onion and tomato. Season with salt and put in fridge (if adding avocados, chop into cubes and add squeezed lemon to keep it from blackening and mix with the rest of the kachumbari).
To make your chips, heat vegetable oil in a deep pan. Add potato chips to fry. Once crispy outside and cooked inside, remove and place on a plate covered with kitchen serviettes (this will soak the oil from the fries). Season with salt.
Cut up the CheeseLove Burger Cheese in smaller pieces and set aside. To serve, start with fries at the bottom, then the meat sauce, followed by the cheese and put in oven/microwave for a few minutes so the cheese melts. Top with kachumbari and enjoy!